Today I am linking up with Maegan over at  Chesterrific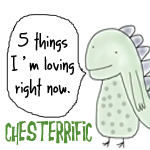 1) My boys, I can't (and won't) get over how much they love each other. The laughter, the hugs, the constant baby babble between the two of them warms my heart. I love it.
2) The warm weather! It is starting to feel like SPRING! Except it's suppose to snow on Thursday. NOT COOL.
3) Rich applied to go back to school, for his paramedics. Now we wait to see if he gets in!
4) We started planning Teags second birthday party! It is a triple birthday party with 2 of his second cousins! I can't wait! We're making a tiger cake, at least that's the plan!
 5) My little garden! We planted our seedlings a week ago, and already have plants sprouting up! It is amazing!!
 (Zinnias, spinach and sweet williams, cukes)